Weddings in The Maldives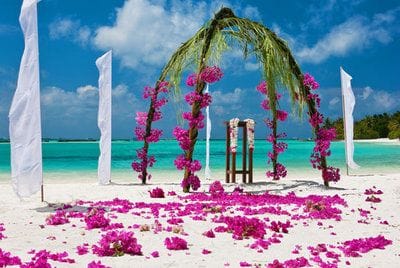 If white sands, crystal clear waters and the idea of tranquillity sounds like paradise to you then the Maldives could be the perfect location for your wedding ceremony. The Maldives has plenty to offer when it comes to planning your ceremony abroad, from luxurious resorts to romantic spots on the beach the Maldives has a little bit of perfection for every couple.
Say your vows against an incredible backdrop of pristine sand, turquoise waters and iconic palm trees, accented by lush tropical greenery. From intimate gatherings to traditional ceremonies to extravagant and whimsical themed galas, the Maldives can do it all. Ensuring your special moment is simply perfect, and leaving the bride and groom free to relax and enjoy it.
Seal your love amidst the splendour of the Maldivian sunset. Exchange vows overlooking the breathtaking Indian Ocean and feel the traditional beat of island drums as you make an everlasting promise to each other.
Weddings in the Maldives are a magical experience. Wedding in Maldives is not legally binding but an experience many couples would dream of. The resort however, would conduct a ceremony and play the whole wedding act.
It's remarkably easy to plan an idyllic island wedding in the Maldives. With details that include decorated wedding buggy, romantic bath & bed decoration, traditional Bodu Beru drummers, beautifully simple décor, enticing menus and photography sessions with locals, our wedding packages is sure to make your dreams come true.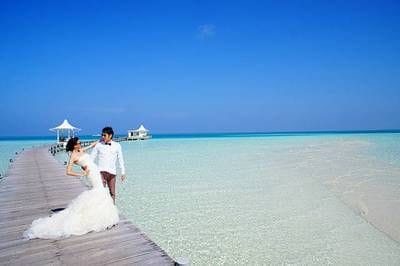 Raise a signature cocktail with your guests at sunset. Savour fresh seafood or expertly grilled meats. Enjoy a most decadent wedding cake or beautifully presented desserts. Stay in a decorated villa with candles, romantic music and a enjoy a floral bath. Our experienced team of wedding coordinators and event planners will take care of everything for you. All you need to do is soak up the paradise around you and focus on enjoying one of life's most special moments.
Our aim is to bring your dream to life and we will work tirelessly to help create your very own fairy tale. Contact us and we will help you to find your dream wedding package.
View some of our Wedding Packages here: